Two day after Bello Kirfi was ripped off his traditional title over allegations of disloyalty to Governor Bala Mohammed, the Bauchi Emirate Council has appointed Alhaji Muhammadu Uba Ahmad Kari as a new Wazirin Bauchi.
The council in a statement through its spokesman Babangida Hassan Jahun said the new Waziri will be turbaned tomorrow at the Emir's palace.
READ: How Bauchi Ministry Influenced Removal of Traditional Title Holder for 'Disrespecting' Gov Bala
"The Bauchi Emirate Council is here by inviting the general public to the turbaning ceremony of Alhaji Muhammadu Uba Ahmad Kari as the Wazirin Bauchi on Friday 6 January 2023 by 11:00am at the Bauchi Emir's Palace," a letter from the emigrate read.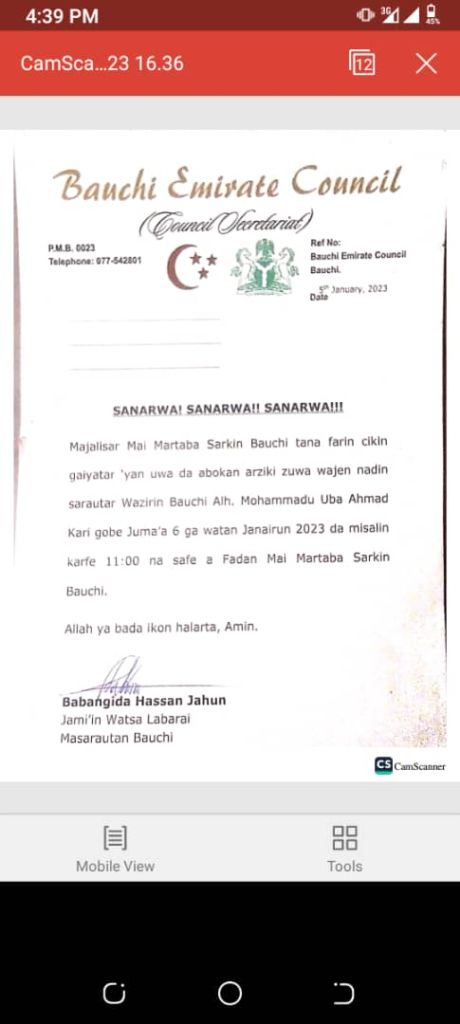 WikkiTimes had earlier reported that the Bauchi Ministry for Local Government and Chieftaincy Affairs facilitated the removal of Kirfi over alleged disloyalty to the governor.
Kirfi, a loyalist to PDP Presidential Candidate Atiku Abubakar has been at loggerheads with the governor for supporting Atiku whom Governor believe was aligning with some stalwarts aiming to frustrate his reelection.
READ: Bauchi Commissioner Resigns After Father's Removal From Emirate Council
The Governor had recently wrote to the PDP National Chairman alleging that there are some forces within the state that are working against his reelection. He, therefore, threatened back out of the PDP Presidential Campaign Council if his complaints were not addressed.