A Bauchi-based artist, Eunice Emmanuel John, otherwise known as Ice Cute, has detailed how her boyfriend, Godiya Samuel Ayuba, assaulted her after spotting her with a neighbour.
The incident, according to the victim, happened a few days after she had told Ayuba she was no more interested in their relationship. Eunice told WikkiTimes she was at a friend's shop at Gwalemeji with her male neighbour when the ex-boyfriend arrived.
READ: Bauchi Woman Suffering Fistula Was Denied Treatment, Kept in Isolation — 'Because Family Believes Her Condition Enriches Them'
"It was on November 14, 2022," she recalled. "I was outside my friend's shop where I usually hang out and my friend wasn't around, so I came out with my male neighbour that night. We were about to leave for home, then he threatened to kill me if I follow my neighbour."
"My neighbour had to leave the scene to avoid violence," Eunice said, adding her boyfriend would later pounce on her. "We later got into an argument because I saw him holding another girl inside my friend's shop and I told him his attitude irritates me and that's why I can't continue with him. He professed love to the lady in my presence and slapped me twice in her presence."
READ: Locals' Hope Dashed As FG Fails to Deliver Constituency Roads in Dass, Bauchi After Wasting Billions
She added: "He started beating me while his friends tried to hold him but he was out of control. He got into his car and started driving towards me trying to run into me, so I had to run. Later, I noticed he was mad because of what I said and I thought apologising would help calm his nerves. So, I did and everything was cool for a while."
Things went south again when Eunice wanted to leave for home. "I decided to go home because I saw a male friend who usually escorts me and my friend after closing the shop. My boyfriend became furious again. He would slap me continuously and even break bottles on the guy's head."
READ: Bauchi Police Nabs Kidnapper Who Pockets N3.1 Ransom
The incident, according to Eunice caused her inner and physical injuries. "Now, I can no longer hear anything with my right ear. I also sustained a fracture on my ankle," she said.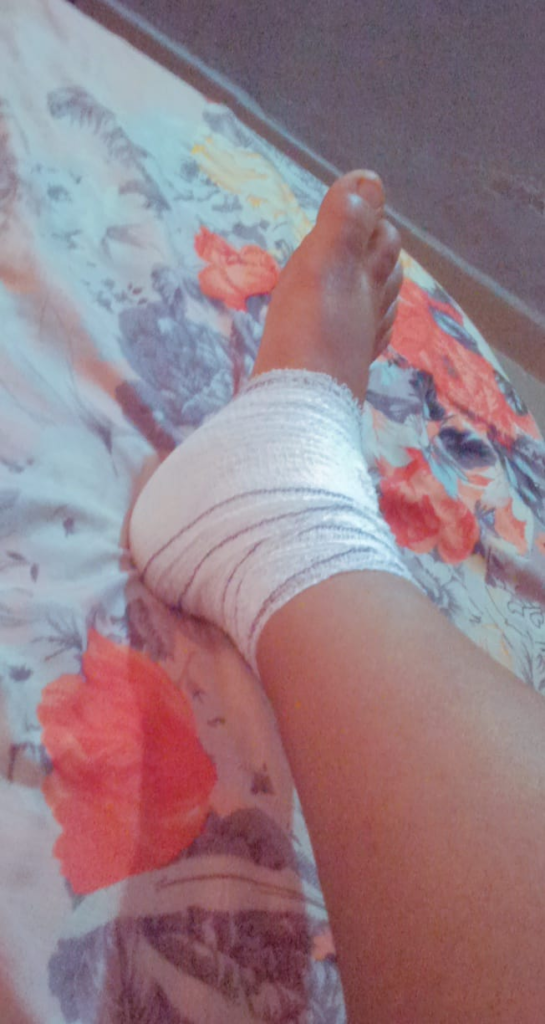 When contacted, Ayuba denied knowing Eunice, urging the journalist to speak to his lawyer. But he refused to share the lawyer's contact.
"Please I don't know her and please if you want to talk to me, can I send my barrister's number so that you can talk to him because I don't know anything about what you are saying," said Ayuba.