Ngala, a local government area in Borno State, used to be one of the major farming and fishing hubs of the insurgency-ravaged state. The people of the community now struggle to restore the past glory, but this is hard, extremely hard on them.
From defaced infrastructure [roads, schools, mobility etc] to nutrient-stripped land, the residents of the Ngala community have more to tell as they jostle between unending insurgency and unfriendly economic trends.
A farmer's lamentation
Abdulrahman Abubakar was an ardent farmer before the insurgency came to town. Although he was not entirely a commercial farmer back then, he decided on farming rice, beans and maize. But the focus was on rice. It was a great choice at the time; it fed the family and he gave some away to indigents.
READ: Bali-Gembu Road Scandal: FG Takes Over Project From Taraba Govt After WikkiTimes Investigation, To Commence Full Reconstruction
"Not everyone was into mixed crop farming," he said. "For me, I needed to reduce the amount my family spent on maize and beans but the focus was on rice farming. We did not have everything we needed, but one thing I know is, back then, we never starved."

Abdulrahman once had a huge swath of land to cultivate back then. Today, though, most families have settled for subsistent farming around the living quarters of the Chad Basin Authority Staff, for fear of losing their lives while trying to cater for their families.
"Due to the insurgency, we do not even venture far from the area, into Boko Haram-controlled areas. If you do, you may never return alive," he said. "We just make do with cultivating maize, okra, beans and groundnut. The area we farm now is small, as provision has to be made for families interested in farming. During harvest, we may get two or three bags of everything – if displaced persons from the camps do not go there to steal them first."

"But, sometimes, we do not sell; we have to take care of the family first. Although Ngala was one of the forgotten locations in the state before the insurgency, the violence only made things worst," he added.
NGO's provide primary healthcare
Access to health in Ngala is no more government's business; at least, it does not look like it is. The non-governmental organisations (NGOs) have taken over primary healthcare delivery – as is now the case in most areas of the state.

In the camps, they run (Kaigama, where the repentant Boko Haram families reside, International Secondary School Camp and Arabic Camp) and even non-IDPs angle to get treated at these primary health centres and posts run by these charity organisations. It is that bad.

"Health is very important," started Malam Fula. "Since we came to this place, access to health has not been this bad. Some organisations are very concerned about the health of people here and do everything they can to set up health centres where people can get treated for minor illnesses.

"The fact that this assistance is free makes it better than what we had before, where you cannot go to the hospital unless you had some money on you. In some cases, you get food (nutritional supplements like micronutrients' powder, ready-to-use therapeutic foods, ready-to-use supplemental food, corn-soya blend plus etc) and drugs for yourself or your child."
Red flags on fishing sites
Baba Gana has been fish-mongering for as long as he can remember. It was one of the reasons why he shunned any form of education; business was a better option.
"Before the insurgency, I went to wherever I heard there was a river with a good supply of fish and, no matter how much time I spent, selling off the fish was no issue. The profit was not bad, either.
"With the coming of the insurgents, we could not venture far to look for fish. The military put up a red flag to indicate the area we cannot venture beyond to look for fish. We have been strongly advised to only blame ourselves if we venture beyond that point" he narrated to Neptune Prime.

They do not disobey this order of their own accord. The desire to be in the business and fish in 'fertile' grounds makes the temptation of venturing past this 'red flag' difficult to resist.
He continued, "The location they have carved out for us is too small and, as people who fish, it is in our nature to go where the fish is.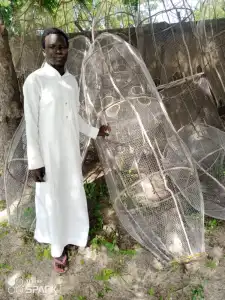 "The sad thing is, when we are done with the stress of fishing and make plans to take them to Maiduguri, the military seize them from us, claiming that we disobeyed and went on to fish in Boko Haram territory. This is frustrating for me and colleagues who spend so much time and dedicate resources to the fishing. It was not so before the insurgency."
Goods are destroyed in transit
For Modu Umara, a businessman, the good road from Ngala to Maiduguri was a part of what made his business worth carrying on with.

The constant killing of NEMA personnel sent to fix the road left the government no option but to abandon the venture. He has paid dearly for this.

His words: "The road was good before and we could go as far as Kano to get any item our customers ordered. Now, the road is terrible and, given how expensive things are, all costs have to be factored into the price we sell.

"The sad thing is, on our way back, if we meet any Boko Haram checkpoint, they burn the goods before our eyes and make us watch.

"Sometimes, I think leaving the business will be best for me but, look, it is all I know and have done for all my adult life."
This republished story is produced with support from the Wole Soyinka Centre for Investigative Journalism (WSCIJ) under the Collaborative Media Engagement for Development Inclusivity and Accountability project (CMEDIA) funded by the MacArthur Foundation.