After a protracted drought-laden week, a heavy downpour over the weekend appeased Bauchi's dry land, but its consequences on the residents were heart disturbing. While wind unroofed some houses, paving way for pollutants into some households, sticky muds override major highways — take a walk through Jahun, Wuntin, Kofar Gombe and Bakin Kura — seeing is believing.
These impacts are avoidable, but poor drainage systems and inhumane climate actions compound its possibility.
Following downpours on Saturday and Sunday, WikkiTimes' reporter went round the ancient city of Bauchi State to assess the level of its effect on some township communities.
"The heavy breeze on Saturday during the rain removed the zinc roof", Aliyu (as simply identified), a resident of Igbo quarters around Wintin, spoke to WikkiTimes in Hausa, pointing to some shredded roofs of his apartment.
According to residents, non-availability of a "good drainage system" contributes to the influx of dirt into their homes when it rains. The dirt is driven into their houses by worsening floods. And the immediate consequence is destruction of valuables.
READ: Reporter's Diary: Inside Memorial Tomb of Tafawa Balewa Explaining Nigeria In Brief
Muhammed Abdullahi, a resident living around Emir's palace seems to be more concerned about the pollution. Taking our reporter round flood-ridden areas, he said: "For now the damage is minimal as you can see that everywhere is dry already. And that is because this is the first rain."
"It just rained once now," he continued, focusing more on the devastating impacts of downpour. "As we usually have in past years, we are expecting it again this year. These dirts you are seeing here usually flow with flood into our houses and it spoils a lots of our properties."
Muhammed emphasised that the drainage at the tarred areas of the community is not wide enough to control the perennial flooding.
"When it rains, it usually takes a long time before the environment gets cleared of the mess caused by the flood. It results in stagnant water and mud, inviting mosquitoes to the neighbourhood," Muhammed told WikkiTimes.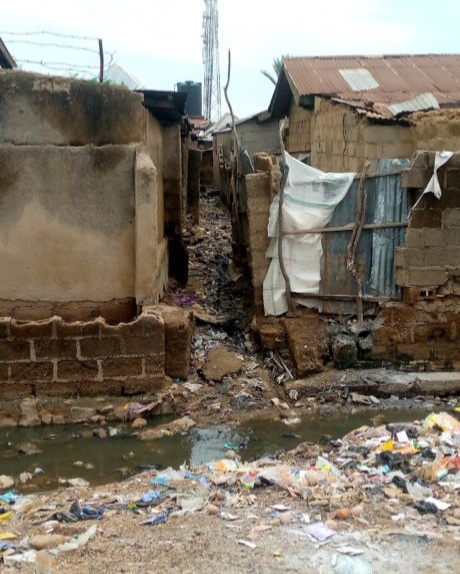 He added: "If you look at houses inside this community, most of them are low houses and when this flood comes, nobody here escapes it."
Reports from Jahun, a suburb of Bauchi State, were not different from other places WikkiTimes visited. Some houses in Jahun suffer from spilled refuse, mostly at various intersections. According to residents, these refuse were deposited by floodwaters flowing through their drainage systems.
READ: 'Dumped To Die' — How Bauchi Residents Saved Newborn Dumped On Rock With His Placenta
Mallam Aminu, a resident of Salleh-Salleh Community in Jahun, narrated the sad story of its neighbourhood. "First rain had no much effect," he said. "But we are expecting the worst."
Unlike the situation in other areas, the dirt has not started pervading houses in Salleh-Salleh, according to Aminu. "No damage for now. The flood only gathers dirt outside. But it used to enter the house when the rain became more frequent," he said in Hausa.
With what WikkiTimes saw in some houses around Maiduguri Road, the impact of the subsequent downpour would be challenging. Walkways were covered with slippery muds and compounds: theaters of dust and dirt.
Government's Response
The Director-General, Bauchi State Environmental Protection Agency (BASEPA), Ibrahim Kabir, in an interview with WikkiTimes said there are plans "In the interim" to tackle the much anticipated upsurge in flood-related eventualities.
Ibrahim admitted the situation around Bauchi metropolis and reiterated the plans to put the lapses in check.
"We have a clear picture of what the situation is and we have identified the local government areas that experience these kinds of problems within the metropolis and other urban centers," Ibrahim said. "We already identify the hotspots of all these problems."
"From Emir's palace to Awala roundabouts, the major problem we have there is engineering problem in such a way that those roads were constructed many years ago and they were constructed with small drainages and now the population in this area have increased and we need to expand those drainages," Ibrahim contended.
"We already include that in our forthcoming project under the World Bank intervention that is going to last for 6 years — from 2022 to 2028 — we are going to construct more drainages," he confided. "At the interim now, we as an agency has a responsibility as an ato clear the existing drainages to ensure that there is free flow of water so that the issue of flooding arising from drainage issue will be minimized"
World Environment Day
On Sunday, World Environment Day was observed globally with the theme 'Only One Earth' — a slogan for the first United Nations Conference on the Human Environment — held in Stockholm in 1972. This puts sustainable development on the global agenda and led to the establishment of World Environment Day.
Speaking to WikkiTimes during the commemoration of the event at Azibal Suite In Bauchi, the BASEPA boss enjoined the residents to sustain the earth.
READ: REPORTER'S DIARY: Luck Worked For Us — Police On Taraba-Adamawa Highway Say Their 'Hoodlums' Are Not Around
His words: "The people of Bauchi should recognise the value of the environment. You can see the theme as clearly stated. It is only one earth we have. It is only one and there is no alternative, so if you have something that is only one and you cannot replace, you should value it
"Valuing the environment means you have to live in harmony with the environment, and I am calling the public to reorganise what the government is doing. There are certain instances when we go and enforce our law and the people will not be happy and they will be like why! They should understand that all our activities are to guard the lives of the people."
WikkiTimes recalls that scenes of flooding recorded in different parts of Bauchi in 2021, killed 20 persons with 37 others injured and properties projected to worth one billion naira were destroyed. In brief, 6,000 farmlands were submerged, 47 culverts were washed away and 27 bridges collapsed — all across the 20 local government areas of the state. However, reports had it that the state government has embarked on a massive sensitisation campaign in rural communities against the impending dangers of flooding as predicted for this year's rainy season by the Nigeria Meteorological Agency (NiMET).