Years after Jigawa State Government via Rural Electrification Board released funds to contractors to execute multi-million naira Askandu and NTA Hadeja electrification projects, the projects were abandoned and a mirage accordingly. WikkiTimes' Idris Kamal reports that Askandu youths and women toil in poverty and misery as they cannot operate profitable businesses requiring electricity just as NTA Hadeja folded up.
---
Jigawa State Government through Jigawa Rural Electrification Board released N20,298,933 for electrification of Askandu, a community in Kaugama local government of area of the state, to Na-Bakwai Enterprise Limited in 2019.
Similarly, in a separate contract, Jigawa Rural Electrification Board released N19,427,719.87 to Xtrax 99 Integrated Service Nigeria Limited for the electrification of the Nigerian Television Authority (NTA) Hadeja station.
Details of the Askandu arm of the project, according to a report of the Jigawa State Ministry of Works and Transport, include a town distribution network, a transformer and connecting the community to the national grid. In addition, details of NTA Hadeja include cabling and installation of a transformer.
Read: Negligence of Nomadic Schools in Bauchi Dwindles Pupils' Hopes, Turns Them Farmers
Findings by WikkiTimes revealed that the Askandu electrification project was abandoned halfway – poles, a transformer and cables within the community were installed but not connected to the national grid as contained in the details of the project- to enable residents of the community to have access to a power supply. The NTA Hadeja project failed.
Uncompleted Power Project Renders Youths, Women Jobless
The hopes and aspirations of most youths and women in Askandu to operate pro-electricity small and medium businesses were dashed as the multi-million naira project to electrify their community was abandoned.
A number of youth and women from the community are jobless even after acquiring welding, metal fabrication and tailoring skills because they cannot practice the trades at home due to lack of electricity supply.
The community depends on outside communities for fabricated metals, doors, windows and gates. All these items could be produced with local expertise but lack of power supply to the area squandered the prospect.
During dry season and fasting periods, the community and its neighbourhoods travel 8km to Elleman or 31km to Hadeja for iceberg and cold drinks to dehydrate their systems.
"I want to buy a freezer to start selling cold drinks and icebergs to my kit and keens but I could not because my native Askandu is not connected to the national grid.
"Through this business, I will ease the difficulty people in this community face while looking for cold drinks and icebergs, especially during dry season. We either get these items from Elleman or Hadeja," Nafisat Abdullahi, a resident of Askandu told WikkiTimes.
Muhammed Lawan Usman, a native of Askandu but Lagos-based shoemaker, added that, "Provided we have electricity supply to this community, I will not hesitate to relocate my business here."
Darkness Allows Thieves Break Into Houses
The Blinding darkness which engulfs Askandu and neighbouring surroundings at night gives thieves the lee-way to steal valuable property from residents.
Recently, thieves broke into residential houses in the community and carted away with goats, sheep and motorcycles unabatedly twice.
Residents blamed lack of electricity for the rise in stealing and a couple of other minor crimes, insisting that such breaches could be averted if the community is connected to a power source.
Read: Abandoned Water Project Continues to Hunt Gombe Community as Residents Decry Water Scarcity, Water-borne Diseases
Muhammad Lawan Usman, 29, said thieves broke into many houses, thereby raising concerns for safety among household owners.
"Young boys broke into our houses with ease at night. They have been frequenting this act recently.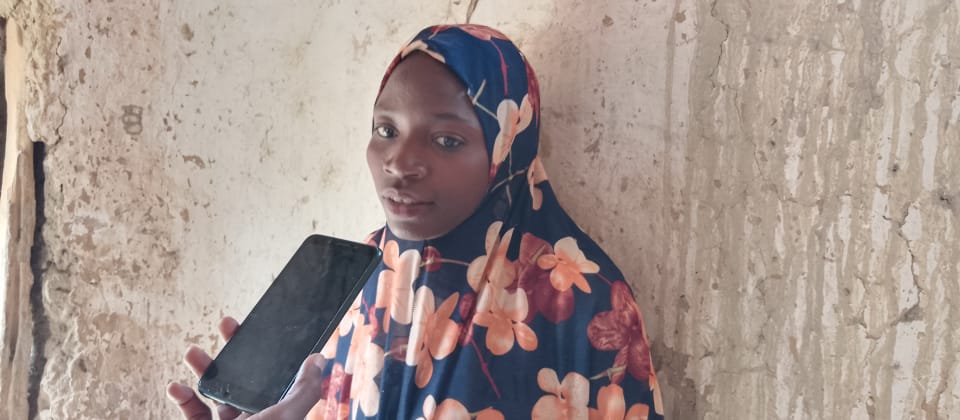 "They took advantage of the darkness that befell the community at night because there is no electric power supply that can light up vicinities," he said.
In addition, Asknadu Women and young girls are increasingly unable to walk around in the community freely as soon as the sun sets.
The nagging fear that they may be harassed or get their phones snatched, forces them to stay indoors for safety reasons.
Nafisat Abdullahi Askandu, a 26-year-old mother of three, told WikkiTimes that a gang of thugs confiscated her smartphone after threatening to rape her while she was on the way to a neighbouring house.
Barren Repeated Appeals
Community leaders from Askandu made several efforts to get the contractor return to site without success.
WikkiTimes learned that the leaders visited member representing Kaugama Constituency at the Jigawa State House of Assembly, Sani Saleh Zaburan about four times. Also, they met the contractor, Na-Bakwai Enterprise Limited where but kept giving them false hope that never materialised.
Adamu Muhammad, the village head of Askandu, told WikkiTimes that each time they interact with either the contractor or lawmaker, both of them consistently issue them a 'one or two weeks' ultimatum for the completion of the project, yet it lingers uncompleted.
"We meet Na-Bakwai about four to five times. He usually promised to return to the site in one week but up to this moment I am speaking with you, he has not returned to the site again.
"We begin to lose hope that the project will be completed to enable us have access to a power supply in the community," he said.
Unexecuted Power Project Cripples NTA Hadeja
For the past three years, NTA Hadeja was shut down because of a lack of power supply after Jigawa State Government released taxpayers' money to Xtrax 99 Integrated Service Nigeria Limited to connect the station to the national energy grid.
Four years after the contract, the project is not executed, allowing termites, dust and grass to prevail over offices and premises of the station.
When this reporter visited NTA Hadeja on 12th November 2022, only casual security personnel reported for work at the station. They keep morning and afternoon shifts. The rest of the staff members move around while government continues to pay them salaries.
Established in 2010, NTA Hadeja relied on a power-generating set for its daily power needs.
WikkiTimes discovered that NTA Hadeja consumes two drums of diesel every month with average of 20 litres consumption per day.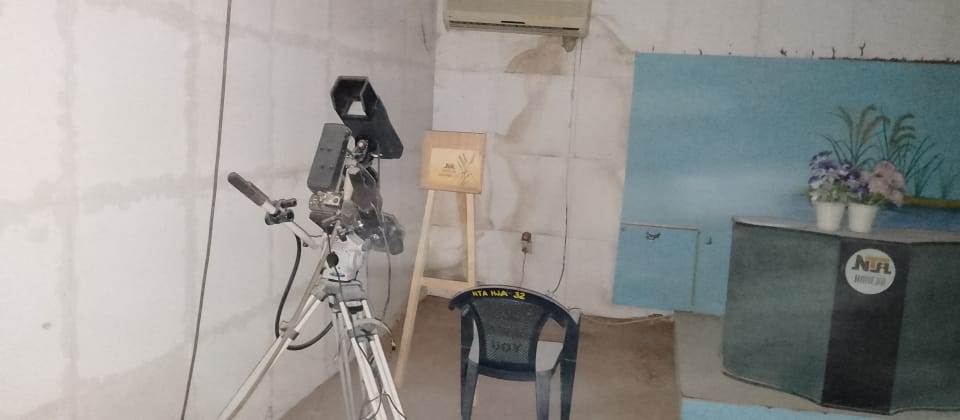 The station could not sustain this consumption after local governments within Hadeja Emirate withdrew their N50,000 monthly support to keep powering the station.
Two years ago, World Bank donated a transformer to the station. Findings revealed that the transformer roosted to waste because it was neither connected to the main power generator of the station nor the national grid.
Baba Ahmadu Sabo, security personnel at the station, told WikkiTimes that because there is no power supply to the station, thieves broke into the premises of the station twice and haul an air conditioner and water pumping machine.
"We suffer a lot to buy batteries for our touch lights we use at night. While price of batteries shut up, it became hard for us to buy again. We buy batteries from our personal pockets," he lamented.
Muhammad Mahmood Ibrahim, Manager supervising NTA Hadeja, said about three years ago, personnel from Jigawa State Local Government Audit and Due Process visited the station to confirm whether or not the electrification project was executed.
"They showed us a document containing contract details of the project running into millions of naira paid to the contractor yet it was not executed as you can see," he explained.
Contractor Reacts
Alhaji Sabi'u Na-Bakwai, Chief Executive Officer of Na-Bakwai Enterprise Limited, said he completed the Askandu electrification project at the cost of over N20, 000,000.
Contrary to the claims of Na-Bakwai, the contract awarded to him includes connecting the community to a power source through the Elleman axis which was not executed. However, he installed high-tension poles without completing the fittings to supply power to Askandu.
WikkiTimes' efforts to speak with Xtrax 99 Integrated Service Nigeria Limited about its role in the failed electrification of NTA Hadeja were unsuccessful.
Read: How Neglected Numan-Jalingo Road Deprives Adamawa, Taraba Investments; Exposes Motorists To Fatalities
The company has neither a dedicated hotline nor an email address through which they could be reached. In addition, the company doesn't have social media handles, an indication that it is not known.
Jigawa Rural Electrification Board Responds To FOI Request
This reporter visited the office of the Jigawa State Rural Electrification Board on Monday 14th November 2022 the morning to speak with the Managing Director, Engineer Sani but he was not on seat.
Efforts to get him to speak through phone calls proved abortive as he did not respond to calls placed through his line.
WikkiTimes sent a Freedom of Information (FOI) request to the board dated 14th November 2022 seeking clarifications about why the Askandu electrification project was abandoned and that of NTA Hadeja was not executed.
In its response to WikkiTimes' FOI request dated 21st November 2022, the board confirmed that the Askandu project was not completed.
Sa'ad Baba Zandam, Director of Administration and Finance who signed the response to the FOI request said the board is contemplating awarding another contract to connect the community.
Read: How INEC Officials In Gombe Disenfranchise Residents of Hard-to-reach Communities Who Fail to Bribe Them
He, however, argued that NTA Hadeja leg to the project was completed and handed over to KEDCO, contrary to WikkiTimes' findings – the station does not have electricity supply despite funds released for that purpose.
This story was supported by the Udeme project of the Centre for Journalism Innovation and Development (CJID).