Muhammad Damina, a 68-year-old former commissioner of Information, Bauchi State, on the last Sunday of August 2022, knocked down his 67-year-old friend, Adamu Babanta, in the presence of the latter's daughter, Kadija who watched her blood-stained father lying unconsciously by the walkway as she cries for help — "Baba na ne…"
The ex-commissioner who holds the traditional title of 'Galadiman Dass' had invited Kadija to catch up with him for a conversation. That was not the first time he would call her. "He has been calling me for almost three weeks," Kadija told WikkiTimes, claiming she did not know how he got her contact.
READ: INVESTIGATION: Leaking Roofs, Inadequate Equipment and Drugs… Many Loopholes In Niger Primary Healthcare Centres
"We arrived at the spot with my father around 5:30 pm… When we arrived, I called him to ask where he was. Before that, he had called me that I should take my bath and meet up with him in an hour-time.
A number of times, Kadija had explained the case to her mother who would later report to her father, but Babanta would not believe his friend could stoops so low to chase after his daughter. For the first, yet the umpteenth time, Kadija personally opened up to her father.
"I had reported the case to him through my mother before I did in person on that fateful Sunday," she said. "But he never believed it until I walked up to him that day to tell him that his friend had just called me to catch up with him somewhere around a fuel station near Abubakar Tafawa Balewa University (ATBU). He seemed to believe it, but he wanted to be sure; so he told me we would go together."
But Babanta never returned home alive. His bruised body was taken to his family. And life started taking a new dimension — 21 children left to the care of three non-working class women and a large chunk of them are females.
'HIS LAST BATH AND ABLUTION'
Babanta, a former Chief Driver with ATBU took his bath some minutes after his daughter informed him about his friend's call. He also performed ablution, hoping to head for the mosque after he had seen for himself what his daughter had talked about repeatedly. "But that was his last bath and last ablution for a Magrib prayer he never got the chance to observe," said Hajara, the deceased eldest wife.
READ: Neglected by Families, Hidden from Society —Untold Stories of Girls Living with Fistula in Bauchi
The deceased's home, thrown into a lull, often became lively as neighbours came to pay their condolences. It started the day Babanta's life was sniffed out of him and it continues eight days after, during WikkiTimes' visit.
"They have harmed us," Sa'adatu, the second wife of the deceased lamented. "Allah will come in between us."
The mourning widows told WikkiTimes they look up to God and good samaritans who may want to help the family. The third wife, Habiba could not say a word. She looks into this reporter's eyes for a while and buries her head in her arms covered in hijab.
READ: 'Bala Must Go' — Why Bauchi Gov, Others Plan to Exit PDP Presidential Campaign
The incident is just a week old, but things have started getting hard on the family. "It is either we sacrifice our lunch or dinner to manage what our husband left for us," the eldest wife, Hajara told WikkiTimes. "We have not talked about his children who are enrolled in school…"
Babanta left behind 13 girls, 8 boys and three wives.
HOW BABANTA WAS KILLED
Thus, the Bauchi Police Command told the press the incident was an accident. But it lied. Kadija and other shop owners along ATBU who witnessed the scene testified otherwise. WikkiTimes' analysis of the incident also proved beyond doubt.
"Galadima killed my father in my front," Kadija cried. She would remain silent for some seconds as though she was observing a minute silence to say her father some prayers. "It is not an accident… He killed him in my presence."
Babanta was in a Keke Napep following his daughter who rode on a motorcycle to meet Galadiman Dass as earlier agreed.
"I could not locate him when I got to the spot he said I would find him," Kadija continued. "So, I called him to show up but he said I should locate him inside one black painted vehicle.
"I responded that I could not find him and told him to beam his car's light because it was already getting dark, but he refused. Instead, he said he would wind down his side glass and that was when the bike man who picked me sighted him raising his hand.
"When he saw me, he signalled the bike man to make a U-turn to the other side of the express. When I got there, he summoned me to come into the car but I shook my head in disagreement and he asked if I had not settled the bike man. I answered in the affirmative. He then fetched N200 from his chest pocket and handed it over to me to give to the bike man.
READ: Bauchi NDLEA Planning Cover-up for Officers Accused of Brutality, Attempted Rape
"He insisted I come inside the vehicle, but I told him I was waiting for a message the bike man had gone to collect for me. I was deliberately doing all that for my father to see with his own eyes who I was talking to. But the moment my father arrived, he attempted to zoom off, but he stayed in front of the car and confronted him. My father, still standing in front of the car, instructed me to step into the car. So, I was thinking he wanted us to leave the place to go and table the matter before some people who will settle it."
Babanta, according to his daughter, managed to get to the passenger's side of the vehicle where he opened the door and tried to step inside. The ex-commissioner did not wait for his friend to get into the car, he sped up and played a stunt with the car while the deceased was trying to get off the car. But he had been trapped already. "He had already opened the door and Galadima kept stunting until he smashed him against a pavement near a plank-made political signpost at the front of ATBU," Kadija narrated, adding she was running after them by the walkway crying for help, "Baba na ne!!! Ku zo ku taya ni." But onlookers only watched her as she cried, fearing they could be accused of killing him. "They grilled me if he's truly my father and I told them yes. They helped me take him to the walkway opposite ATBU and rushed him to the hospital, but he died before they got there."
"Galadima killed my father in my presence," Kadija reiterated amid teary eyes. "He did it intentionally. He killed him."
Some shop owners who spoke to WikkiTimes corroborated Kadija's claim. However, they don't want their names in the press.
When calculated using Google Earth, the distance between where Galadima started stunting his car [as described by Kadija and other eyewitnesses] to where he finally smashed the deceased against the pavement is estimated at 0.22 km.
THE COOKED-UP LIE
Before the deceased's family members could get to the police station, the former commissioner had reported himself to the police authority where he claimed to have accidentally hit someone who seemed to be drunk and wandering around, according to a source from the deceased's family.
However, a copy of the police's First Information Report (FIR) exclusively obtained by WikkiTimes confirmed that Galadiman Dass drove in a black vehicle as earlier described by Kadija. The report also indicated that the suspect "dragged" Babanta "to a certain distance" with the vehicle. Stunningly, the police, without proper investigation, concluded the matter to be an accident. The commissioner was, however, charged under certain sections of the Road Traffic Act Cap 543.
READ: 'Any Infraction Will Be Dealt With' — NDLEA Headquarters Vows to Follow Up Rape, Human Rights Allegations Against its Officials in Bauchi
The FIR read: "That on 30/10/2022 at about 1907 hrs, you Mohammed Damina Galadiman Dass 'm' aged 68yrs of Yelwan Makaranta Bauchi, drove your vehicle Honda accord black in colour with registration number DAS-688-AA from Abubakar Tafawa Balewa University gate Bauchi heading to college of Agric Yelwa along Dass road Bauchi in a dangerous manner and carelessly zoomed off the car and dragged one Adamu Babanta 'm' aged 65 yrs of Yelwan Makranta to certain distance and fell down on the road.
"As a result, he sustained various injuries and was rushed to ATBUTH Bauchi for treatment and later pronounced dead by a medical doctor at the above-mentioned hospital and you was [sic] found driving your motor vehicle without having your particulars.
"You thereby committed offence contrary to sections 27, 29 (1) and 7(1) of RTA Cap 548."
BAUCHI POLICE BOSS — A CLOG IN THE WHEEL OF JUSTICE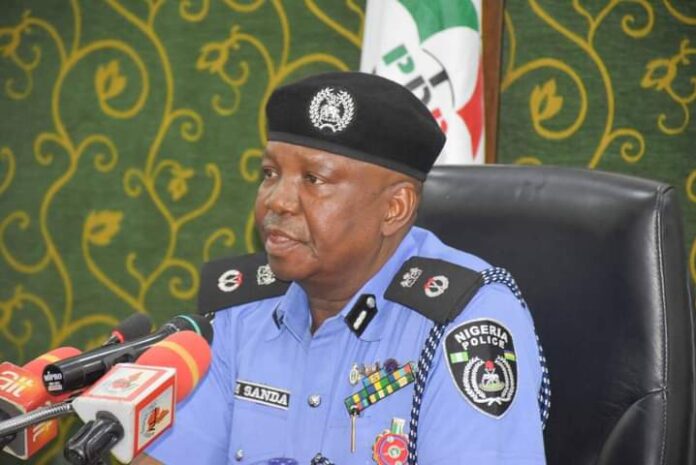 A day after the incident, a complaint against the ex-commissioner was sent to Umar Sanda, the Bauchi State Police Commissioner to ensure justice is done. But he was out of the state at the moment, according to Alkassim Muhammad, the victim's family lawyer.
In the complaint, the lawyer urged the police boss to as a matter of urgency to transfer the case to the criminal investigation department of the force for proper investigation. But the lawyer believes Sanda either did not "treat or give prominence attention" to the case as the latter had "instructed" that the ex-commissioner be charged under "the provisions of sections 27, 29(1) and 7(1) of the Road Traffic Act Cap 543."
The case with suit no: cmc BH/2048/2022 was filed before Chief Magistrate Court III Bauchi on November 1. However, the family's lawyer argues that Galadima's offense is culpable homicide punishable with death under section 221 of the penal code.
READ: Abandoned Water Project Continues to Hunt Gombe Community as Residents Decry Water Scarcity, Water-borne Diseases
In pursuit of justice, the lawyer petitioned the Police Service Commission (PSC) where he accused Sanda of attempting a soft landing for the suspect.
The petition also indicts Ahmad Buba, a Superintendent of the Nigerian Police and the O.C Motopol (MTD) unit of the Police, Bauchi and one Livinus Emmanuel, a Sergeant of the Nigerian Police Force and the Investigating Police Officer (IPO) in charge of the case.
The petition among other things urged PSC to monitor Sanda's communication from the date of the incident till now to ensure the level of his participation in the compromise and to also investigate other officers indicted.
While the matter still lingers, the police boss confirmed to the deceased's lawyer that he facilitated the release of the suspect from detention.
When contacted, Sanda declined to comment on the issue. He directed our reporter to speak with Ahmed Wakil, spokesman for Bauchi Police Command.
Wakil also declined to comment. He said his boss had responded to the petition and hence, he has nothing to say.
This publication is produced with support from the Wole Soyinka Centre for Investigative Journalism (WSCIJ) under the Collaborative Media Engagement for Development Inclusivity and Accountability Project (CMEDIA) funded by the MacArthur Foundation.