The Jos Electricity Distribution Company (JED) over the years, consistently relinquished its role of fixing electric poles, transformers and cables to its customers in Bauchi; forcing them to bear the financial burden of sustaining power supply to communities contrary to regulatory provisions of the Nigeria Electricity Regulatory Commission (NERC), WikkiTimes reports.
---
Muhammed Rabi'u, a 45-year-old resident of Anguwar Sarakuna in the Bauchi metropolis, bought three poles and cables to connect his house to power supplied by the Jos Electricity Distribution Company (JED) when he first relocated to the area in 2017. He had no option but to invest his personal resources to obtain the electric asset required to tap power for his domestic use after several efforts to get JED to supply the materials proved abortive.
"I bought three poles and electric cables to connect my house when I first relocated to this area about five years ago. At that time, I spent more than N15,000 to get the wood-made poles and another N10,000 to buy cables.
"After making the required materials available, I have to also pay JED staff who worked to relay power to my house," he said wrinkling his forehead to note his dissatisfaction.
Rabi'u added, "The only thing JED did to me registration as their customer after making a huge investment that allowed them to continue making money through me."
The story is the same for Ibrahim Adamu who lives about 7km away from Rabi'u in Fadaman-Jaji, behind Old Airport in Bauchi metropolis. Along with other residents, Adamu bought 10 poles before his newly constructed house could be connected to the power grid in 2015.
Adamu told WikkiTimes that he contributed N50,000 to raise money for the poles and cables used to connect his house.
Adamu, in an encouraging voice, said, "All the power structures that you can see around here were provided by the individual owners of the house because when we relocated after completing our houses, we tried to see how JED could provide us with these assets without any success."
Both Adamu and Rabi'u are victims of the sustained failure of the Jos Electricity Distribution Company (JED) to heed its statutory role of providing and maintaining electric assets and networks. This practice exposed unsuspecting JED customers to exploitation by the company.
A provision of the Nigerian Electricity Regulatory Commission (NERC) states that "It is not the responsibility of electricity customer or community to buy, replace or repair electricity transformers, poles and related equipment used in the supply of electricity."
The NERC, on the other hand, spelt that it is the mandate of the electricity distribution companies to 'provide connection and deliver electric Energy to the Users in accordance with applicable Laws, its licence and the Distribution Code in accordance with the technical and safety parameters specified in this Code and other industry regulations, at a level of service quality consistent with the applicable Standards of Performance Code."
Similarly, NERC warned that it is not the obligation of electricity customers to buy poles, cables and or repair faulty transformers.
However, individuals and communities in Bauchi continue to make personal and collective efforts to buy and repair faulty poles, cables and transformers to maintain energy supply to their residences.
---
Communities Raise Funds To Repair Transformers, Poles
Residents of Bauchi communities continue to bear the financial burden of repairing faulty transformers, cables and poles. Oftentimes, this task is achieved through collective communal efforts and, sometimes, a few influential people shoulder the responsibility on behalf of others.
For instance, in Anguwar Sarakuna, residents spent nearly one million naira to fix their transformer after it developed a fault despite having earlier submitted an official complaint to JED regional office in Bauchi.
Dr Garba Altine, one of the leaders of the community told WikkiTimes that after repeatedly officiating complaints to JED about defective electrical instalments in the area, it became apparent to them the company is always hesitant to respond because it involves financial expenditure.
Each time residents of the area lodged a complaint to JED, the response remains the same. Representatives of the company always respond to a reported deformity that "we are awaiting approval from Jos" which usually does not come at all.
Out of concern, demand and curiosity for power supply, the people of Anguwar Sarakuna tax themselves proportionate amounts depending on the economic strength of individual members. The amount usually varies between N2000 and N20,000.
"On three occasions, community members mobilised resources to repair our transformer and purchased cables to expand the energy supply to the area. In the first instance, we contributed more than N300,000 and another N140,000," Dr Altine said.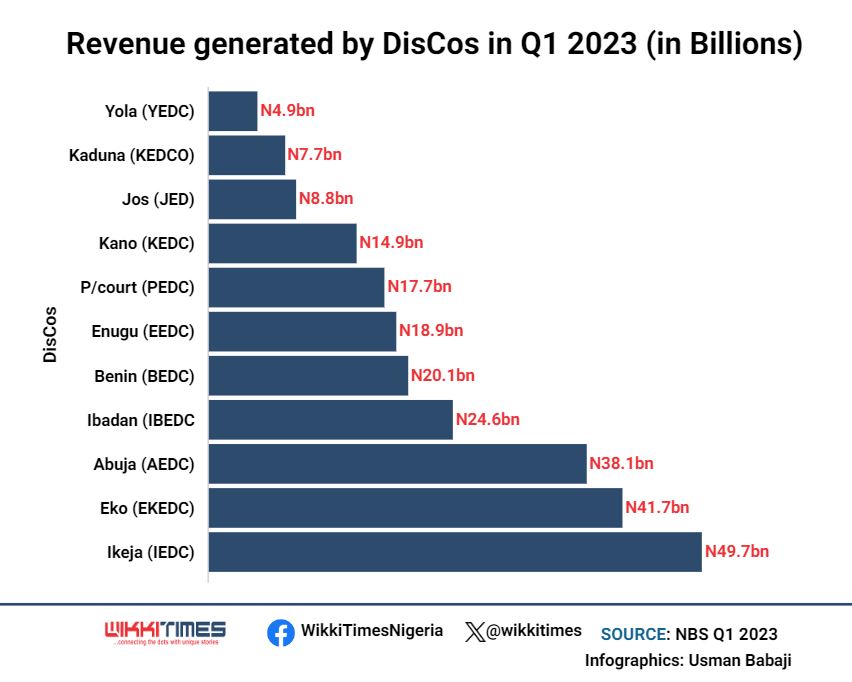 In Zango-Gidan Kaji, a community on the outskirts of Bauchi metropolis that was established about 16 years ago, residents procured all electric installations themselves.
In a row, the community bought its transformer spending more than two million naira in the process.
Instead of providing electric assets to communities where they are needed, the distribution company resorted to borrowing communities some of that equipment at critical times. It takes back the property at the stipulated time.
"This is an agreement note between the representatives of JED Plc Bauchi Business Unit and Zango Anguwar kaji community leaders in respect of borrowing a 300KVA11/0.415KV transformer from JED Bauchi Business Unit," a note of a pact residents of the area entered into with the company in 2016 pending when their faulty transformer will be repaired.
Another document, WikkiTimes is in possession of, states that the financial implication of fixing the transformer lies with residents of Zango Gidan Kaji community. "The agreement is our community is to shoulder responsibilities for the repair," the document dated March 23rd 2021 read in part.
Aliko Ibrahim Gurama, Chairman of Peace Committee Zango Gidan Kaji narrated that the community spent more than a million naira buying and repairing faulty electricity materials since its establishment.
How Jigawa Govt Abandoned Multi-Million Naira Electrification Projects, Deny Youth, Women Opportunities, Cripples NTA Hadeja
"Residents of the community raised the money among themselves without receiving a dime from JED, its purported owner," he said at the top of his voice to express disapproval.
Similarly, In Unguwar Fadaman-Jaji, it was the efforts of the community, established in 2014, that secured three 50KVA transformers and maintained them.
Babayo Baifodo Ajiya, a leader of the community alleged that JED officials gave approval for the community to contribute the funds to fix either transformers, cables or poles.
"When we approached the JED officials, they said if they cannot fix the spoilt 50KVA transformer. We should start making up our minds to contribute to a new transformer which will cost us about N1 million," he lamented.
In a letter addressed to the General Manager of JED Plc, residents of Fadaman-Jaji said, "We are appealing for transformers in our community with a very large population that continues to expand and thousands of houses sharing a defamed 500KVA transformer.
"We see electricity only for 15 days in a month and enjoy less than 8 hours out of the 15 days. There were times we had to stay in darkness for months."
The letter further reads "It was the community's efforts that yielded the 50KVAs that were in use and the current 500KVA with all the accessories."
---
Despite Provision, JED Never Refund Community Investment
Electricity consumers continue to sink personal and community-mobilized funds to repair defective energy assets without being refunded the investment by the Jos Electricity Distribution Company contrary to the provisions of the National Electricity Regulatory Commission (NERC). 
According to the NERC guidelines, where a community or individual invested to procure or repair any electric asset to Fast-track and sustain energy supply, the DISCO affected is obliged to refund such investment. 
However, community leaders affected and interviewed told WikkiTimes that JED oftentimes evades ratifying an agreement with them to refund such investments, arguing that it does not have the financial capability to.
Bauchi residents lament poor electricity supply; Bauchi govt owing N2. 3 billion bills—JEDC
Similarly, the company does not wave monthly billings for communities that invested their resources to fix an electricity network asset.
"We proposed to JED our plan to refix our transformer and purchased cables to have an additional supply line and demanded that they either refund us or give us a bill waiver for a given period of time to enable us to recover our investment but they refused.
"The management of the company here in Bauchi refused to give us any formal assurance. We did it at a loss because they sustainably charge us bills at the end of every month," Mohammad Ishaq, a resident of Magaji Quarters, said.
Surveyor Zakari Danladi, a resident of Old Airport, said despite contributing more than 80 per cent of the available electric network, JED still demand monthly bill payments from them.
In a letter of complaint to JED dated January 2nd 2018, the community said, "It remains a fact and undisputed that our community contributed between 70 to 80 per cent of the structures required for the provision of electricity, yet JED has shown a lukewarm and unprofessional attitude. The issue of unjustified billings that were distributed after restoration which JED were aware that officially the community was without electricity for more than eight months."
---
JED Respond
Hafiz Saleh Hassan, the regional manager, Jos Electricity Distribution Company confirmed that while the responsibility of the company is to provide all needed electricity installations for the customers, it does not have the resources needed to respond to the avalanche of demands received.
"Based on NERC guidelines, DisCos are responsible for putting the right faulty distribution equipment or channelled through appropriate lines of communication.
Gombe Girls Who Lead Blind Men Cry Foul Over Exploitation, Harassment by Their Principals
"If it is beyond what our Customer Service Point (CSP) can do immediately, they will take the transformer to our workshop and if it is beyond repairs we bring a replacement, but people don't report," he said.
However, JED customers in different communities visited by WikkiTimes despite adhering to the laid down complaint procedures were not attended to by the power company.
Hafiz argued that because electricity customers do not pay the company charged monthly bills, it will not be responsible for repairing transformers, cables and poles. "They don't want to pay bills but when their transformers and other network tools are damaged, they run helter-skelter asking us to fix it. Let them pay their debts which was what we expect from them," he said.
This reports is produced with support from Civic Media Lab (CML).