Two communities in Jere Local Government Area, living side by side peacefully for centuries are now turning against each other. Zainab Yetunde Adam reports on how spilling of blood became the order of the day and perceived normal act by the perpetrators.
Fatima Nur has lost count of how many people she saw stabbed or their hands chopped off by different violent groups in Maiduguri, northeastern Nigeria. Mrs Nur only recalled how her son Abdulrahman Isa's hand was cut off on a bright day by a violent youth group in Old Maiduguri, Jere Local Government Area.
According to her, her son was on his way out to iron his school uniform when the armed group called Kangale from Abbaganaram passed by and hit him with their machete.
With a teary eye, she said for the past eight months, the boy has been undergoing treatment, but his condition continues to deteriorate, and that has truncated his dream of writing his WAEC exams. She has exhausted all resources for his treatment and is now sending the boy to her relatives in Kano to help her with the medical bills.
"The youth group claimed injuring my son was accidental, and I took the case to court, but nothing tangible was gotten on the case… I feel the poor have no right to justice again."
Maiduguri, the birthplace of Boko Haram Terrorism that has ravaged the Lake Chad region for more than a decade, now sees a low incidence of terror, but different violent groups have emerged, threatening to reverse the security progress in the city. Residents and experts say a lack of adequate post-conflict stabilization programme and limited opportunities for victims to recover their livelihoods play a role in pushing young people into violent crimes.
From 2018/2019, some unemployed youths below the age of 18 formed violent groups in Maiduguri. These youth groups include Baza Taro Group, RKO, Razana Maza, LCT, Daba, Gaga Maza, Super Star, R2B, 10102, BUN, So Far, MKC, Zazu, HKC, 7 Guys, New Life, Alalatasu, and 7 Lucky, Zamani, Sarauta, Barde, Sakai,  Group guys, and Group AA among others but are predominantly called Marlians. They are notorious for phone snatching, shop and house burglaries, destroying properties, rivalry fights, stabbing and murder. Borno State government is now cracking down on them to curb the menace.
Baba Judum (not real name), who resided for four years in Old Maiduguri before relocating to another area, said the notorious groups are friendship groups that initially contribute N50 to N100 to support each other as well as entertain themselves during the wedding of an associate before turning violent.
Nigeria faces worsening socio-economic crises, with a vast youth population without corresponding opportunities to even just be better off.
A development expert, Professor Ibrahim Umara noted that 70% of Nigeria's population constituted youths below the age of 35, with skewed job opportunities and an inability to access a conducive atmosphere to realize their potential. This is further worsened by security challenges in the North East.
INVESTIGATION: Inside Secret Details of How Chinese-allied Miners Bribed Dogo Gide Terror Group to Access Mining Sites in Niger State
"Corruption in selecting beneficiaries of livelihood interventions, which is a part of indignation of human morals, must be stopped before we can succeed or else the situation will be difficult to handle," Prof Umara warned.
Also, a human rights activist, Lucy Yunana, said that the moment a child finishes university and is not working or doesn't have anything to do, he will definitely start thinking about how to go about it to get money.
WHAT 'UNITY'?
This reporter identified that the groups shared one thing in common while speaking to them.
Umar Mohammed has different names. He was confused about whether to give the different names he bears in each of the groups he was once in or his real name. We later settled on one name during the interview. He first joined the RKO group before joining the LCT group. Umar said his group was created to strengthen unity among his peers and defend themselves through unarmed fights.
According to Mohammed, his group takes a person to the riverside, puts him inside the water, and uses a cane to beat him…because they derive joy from seeing a person wounded or crying helplessly.
Similarly, Modu Ibrahim (Not real name) now 26 years old, felt he has outgrown group activities except when tampered with.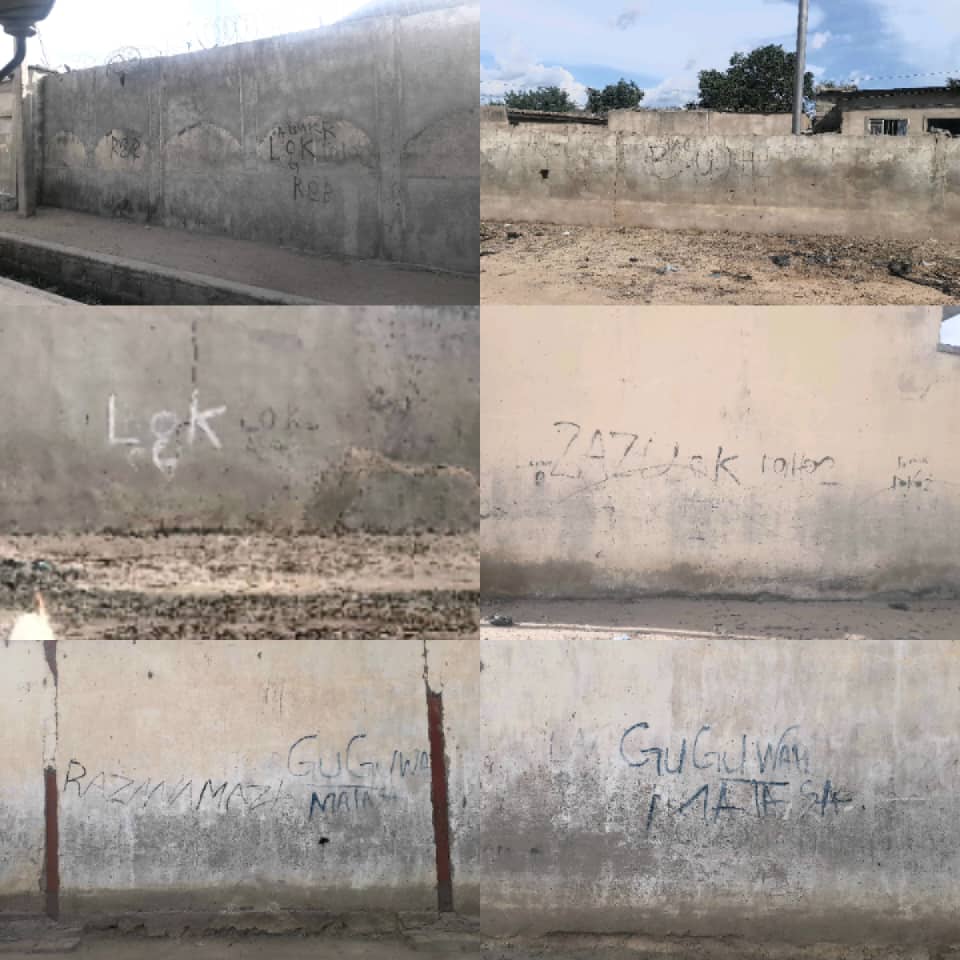 Narrating his group activities which commenced seven years ago, he said they still have their knives buried somewhere for safekeeping and will fight back if need be.
"If a person wants to use a weapon to attack you, you too will not hesitate to use your own for self-defence," he highlighted.
However, other ex-group members interviewed asserted that they were arrested without committing any offence by the Police. One of them is Hassan Ramadan who spent some days in custody before being released for keeping the marlians hairstyle.
Ramadan is among the 5.9 Million people who left school early. Ramadan claimed he dropped out of school at Senior Secondary School (SSS) One to cater for his parents.
He only earns N300 to N500 from his daily work and wishes he could get more money to establish a business but he ends up missing opportunities for learning and skill development.
According to a 2022 UNICEF fact sheet, 66% of all Out Of School Children (OOSC) are in the North East and North West. 86% are from rural areas, and 65% are from the poorest quintile causing intergenerational poverty and inequality and meaningful employment inaccessible.
Poor, Dilapidated Infrastructure: Inside Bauchi School Where Girls Miss Classes During Menstruation
A part of Ramadan's worry forms part of Taha Musa's ordeal. Musa questioned the authority that allows such marlians outfit to be sold in the state if it is not the ideal outfit for them, rather than being arrested for using such outfits.
 "These clothes are sold at the boutique and if they are exhibit they shouldn't be allowed in the state. We agree to barb our hair as instructed …but we bought a trouser around N7000/ N8000 and got beaten for wearing them." He bemoaned.
MARLIANS ALLIES ELSEWHERE
Bello Bala, an ex-group member, affirmed that the marlians group are about three types;  The first one are like marlians – they wear shirts and trousers, the second one wear kaftan (Babban riga) while the third version have indecent hair/hair style looking like super marlians but they are not the real marlians.
"I have been to Port Harcourt and the real marlians are there. They are into phone snatching, murder and partake in other social vices."
Bala noted that most Maiduguri residents or some of the ones he knows who are in search of greener pasture and metal scavenging, engage in such acts in Port Harcourt and other Southern states.
Bala's claim was buttressed by another ex-group member, Brown Bush. Brown Bush (Not real name) disclosed that some of them bring metal scraps from Abeokuta and Port Harcourt to make their knives/ weapons.
Two residents of Port Harcourt who spoke to this reporter attested to the cases of phone snatching and thefts in busy areas of the state.
SECURITY SPEAKS
In June this year, the Nigerian Army arrested 15 members of the Marlian gang following swift investigations into reports of activities of the gangs in Gwange, Umarari and Jajeri areas of MMC.
78 Suspects were arrested by Borno State Police Command for various offences including murder, burglary, and theft  in 14 communities across Maiduguri metropolis and Jere Local Government including a gang of ten hoodlums who attacked  a police constable, Babagana Mala, assigned to the Police Crack Unit on July 23
The Borno State Police Command has also arrested 47 Marlians out of which 7 are minors and handed over to their parents in line with the Young Person Protection Act.
The Commissioner of Police, Muhammad Yusufu Lawal stressed that post-conflict phenomenon needs parents to instil good morals in their wards and build the necessary trust through collaboration with various sectors of the community to foster peace.
Similarly, Commander CJTF, Sector 4, Baba Shehu Abdulgani said the CJTF has 50 members joint with the police and NSCDC in the ongoing Anti-Marlians and Anti-Gidan Rawa operations.
"Each Marlian group has about 40-50 members. They are doing gangsterism like a hobby because they are smoking and mostly not in their senses."
Baba Shehu appealed to the public to cooperate with security agencies because what the government is doing is for the betterment of the people. "Let perpetrators be arrested and rehabilitated for the better."
AGONY OF LOSS: Through the Eyes of Displaced Victims of Lingering Farmers-Herders Crisis in Plateau LGA
However, commenting on this, Borno State Commissioner of Information and Internal Security, Professor Usman Alhaji Tar said the government is working very hard in order to open up economic opportunities for youths in general and in particular those that appeared to be indulging in criminal activities to curb criminality in the state.
"Of course, the economic value chain is being resuscitated in the state, there are private sector driven opportunities for jobs and there are about 17 vocational training centres for youths to acquire skills."
Professor Tar said that the mentality of the youth that the government is the only organisation to employ them appears to be what is misguiding them.
"Any youth that said he is engaging in crimes because he has nothing to do is not being smart. One thing in life is you take advantage and key into opportunities around you," he said.
This reporting was completed with the support of the Centre for Journalism Innovation and Development and the Open Society Foundations.