First awarded in 2007, Panyam-Bokkos-Wamba road in Plateau State would have been completed around 2010, based on the contractual agreement between the Federal Government and the first construction firm.
However, 15yrs after, construction work remained abysmal, leaving communities along the 90km road in agony-causing them to lose their loved ones, farm produce worth millions, armed robbery attacks and stress occasioned by tedious prolonged journeys.
Not only is Panyam-Bokkos-Wamba road suffering from neglect, the same is the fate of Babban Lamba-Lanshi-Sharam and Pankshin-Tapshin-Gindiri roads awarded at various times, but abandoned for years.
WIkkiTimes tracked releases of money by the Federal government to contractors handling these projects running into billions of Naira, including questionable payments.
To the families of Datet Mud Audu Gambo-the Traditional Leader of Kombun, a village in Mangu LGA along the 90km panyam-Bokkos-Wamba road, the deplorable condition of the road will indelibly remain in their minds for as long as they live.
This royal family lost 2 of their agile and promising young ones: Nandong Gambo, 38yrs and Yusuf Garba 30yrs to the bad condition of the road within a span of three weeks.
Both of them died on the road before reaching the nearby medical facility in Mangu, on 26 May and 10th June 2022 respectively as the family raced to save their lives following sudden different illnesses.
Late Namdong left behind 3 children while Yusuf Garba left 6 heirs.
"Ordinarily the about 30km journey to the hospital in Mangu would have taken us around 20 minutes if the condition of the road is good and I believed if we had reached hospital 30mins after the onset of their illness both of them would have been by my side as I grant you this interview" claims Datet Audu.
WikkiTimes gathered that the about 30km distance from Kombun through Panyam and to Mangu now takes 2hrs to accomplish, and their woes become even compounded whenever it rains in the area. "It takes us two hours to reach the main road which is not supposed to be more than 15 minutes", he said.
When it rains, especially in the afternoon, residents of the village who go to Mangu for their daily bread sometimes have to sleep there, due to the muddy nature of the road that makes movement nearly impossible and some narrow streams that overflow their channels.
This according to Datet Audu was exactly what happened the day Yusuf Garba died. School teachers posted to town have also absconded, due to difficulty on the road.
People of Daffo, Per, and Bot also suffer the same agony as they ply the road daily for their livelihoods.
A local blog, Eggon News documented that the contract for the construction of the road was initially awarded on April 19, 2007, to STATECO Nigeria Ltd, at the cost of N5,338,200,930.90, with a 24-month tenure.
The contract was however revoked in 2012 for attaining less than 20% completion and this was after over 66 months, with two extensions granted over the contract period.
WikkiTimes could not establish the total amount paid to the first contractor before the project was revoked. Similarly, this medium could not lay hands on any verifiable information on what happened on the project between 2012 when it was first revoked by the Federal Government up to 2019 when it was rewarded to a new firm, Uniglobe Construction Engineering Nigeria Ltd.
It was a Zonal Intervention Project renominated by the duos of Hon. Solomon Maren, Member Representing Mangu/Bokkos Federal Constituency of Plateau State in the House of Representatives and Senator Hezekiah Dimka, a Senator representing Plateau Central Zone.
From 2019 to date, series of monies have been released to the construction firm to the tune of over NGN643,503,408.74 in 5 instalments, with little work on the ground.
Data obtained from govspend.ng showed that the firm was paid NGN180,952,381.00 on 19 Sept, 2018, N163,567,303.80 on 16, Jan 2019, and N28,864,818.33 on 14 May 2019. Other installments were N130,892,026.56 on 16 April 2020 and N139,226,879.05 on 29 May 2021 respectively.
The 2 lawmakers Hon. Solomon Maren and Senator Hezekiah Dimka had, at various fora promised timely completion of the project to their constituents, but 4 years after work resumed no appreciable progress has been achieved.
Citizens plying the road continue to perish with attendant socioeconomic bruises.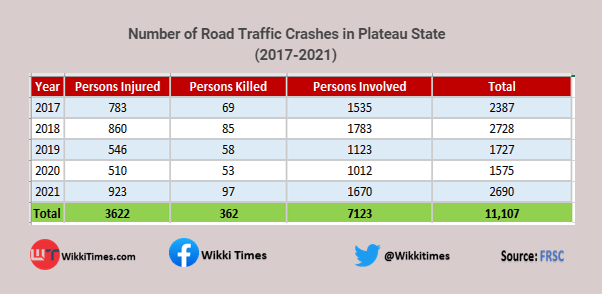 Solomon Kefas, a driver from Bokkos, described the road as a mirage. He bemoaned that they resorted to taking a longer Mararaban Jama'a road in all their journeys instead of the dreadful Panyam – Wamba road.
"It's too stressful to follow that road, (Panyam – Bokkos – Wamba), in fact, it is not motorable". He told WikkiTimes that he followed the route about three months ago and he had to pay about N10,000 to fix his vehicle.
Kefas however prayed that the government should construct the road to make it easier for transportation within the communities describing them as agrarian.
Ibrahim Buwa, a resident of Bokkos, faulted politicians, and accused them of telling lies during campaigns to solicit voters' votes, "You see we don't have a road. They (politicians) feed us with juicy promises only to find out that they were telling lies".
Also Read: Despite N36.3 Billion In Releases, Gembu-Serti Road In Taraba Still 'A Death Trap'
WikkiTimes' visit to the site revealed that the road is in tatters, with ditches, off-road lanes, and a heavy accumulation of mud in areas where construction work has begun. This situation even becomes worst whenever it rains. Despite this condition, no construction firm was seen on-site at the time of the visit.
See: How Government Ineptitude, Cover-ups Exacerbate Armed Banditry In Kebbi State
The decade-long abandoned culverts constructed in some streams became obstacles and therefore increased the deplorable condition of the road as cars hardly ply it.
Villagers now resorted to using motorcycles on an interstate federal road. Even with the motorcycles, villagers spend an average of four hours to get to their destinations, a journey that otherwise would last only for about 40 minutes.
45km Babban Lamba – Sharam road
Similarly, the construction of the 45km Babban Lamba – Sharam road has been lingering for four years with no end yet in sight. Awarded in 2018 to 2 construction firms Ric Rock Construction Nigeria Ltd and Kanacruz Nigeria Ltd at N19.392 billion, the road is a lifeline for people in Babban Lamba, Langun, Garram, Langshi, and Sharam towns in Plateau State.
A visit to the construction site showed only the first 5km from Sharam to Dungum was made motorable, with the rest of the 40km barely unattended.
Gigantic troughs make journeys on the road unbearable, while communities still have to construct fragile culverts over powerful streams which are usually washed away after rainfalls.
Motorcycles remain the only means of transportation between some of the communities. In many portions of the road, motorcycle passengers have to alight to allow the riders to navigate their way through rough and difficult terrains.
The 2 construction firms have so far been paid N955,645,950 in different instalments.
On 22, Oct 2019, N226,190,476.20 was released to Ric Rock Construction Nigeria Limited. Likewise on 30, Dec 2019; N106,372,033.80, on 17, Apr 2020; N174,522,702.10, on 20 Oct 2021; N358,095,238.10 totaling N865,180,450.2. While on 19 and 20 Dec 2019 N45,232,749.90 was released each day totalling N90,465,499.8 to Kanacruz Nig Ltd.
Communities, commuters groan
Nde James Beka Galadima (District Head) of Belnung, recalled how they were excited when the project was announced, "we first heard the news on radio and we saw the signboard installed at the junction. We were so excited then".
But years after, the Babban Lamba – Sharam road project become a mirage – "it is in tatters", Galadima repeated.
Mr. Beka, said in the last few years the community might have lost up to 30 people mostly snake bite victims and women in labour who could not make it to the nearby health facility due to the bad condition of the road.
Corroborating this, Yelkang Iliya, one of the Youth leaders in Langum claimed that "we sometimes carry our sick ones on our shoulders". A 10km distance takes Langum community hours, "we spent 3 hours to Babban Lamba, especially during the rainy season".
Nde Beka said transporting their agricultural produce to the markets around is a herculean task, pointing out that what they produce sometimes gets spoiled or becomes less beneficial to them. "We produce groundnut, rice, millet, maize, and yam to mention but a few and it takes us hours to reach the main road from here".
The traditional ruler however acknowledged that "about 5km was constructed then from Sharam to Dungung but nothing more, and no contractor present at the site".
Cyclists Transport Corpses From Hospitals to Communities for Burial
Andrew Peter, a cyclist and resident of Munkot Community told WikkiTimes how they use motorcycles to transport corpses from hospitals to their communities for burial as a result of the unmotorable nature of Babban Lamba/Sharam road.
"For several times I took corpses to Garam, Talbalong, etc on my motorcycle. For instance, a female corpse was tight up on my back and her legs were tight up with the shock absorber of my motorcycle.
Pankshin-Tapshin-Gambar-Sara-Kal-Gindiri road
For this road, N2,164,414,870.97 was paid for the construction of the road. The site was officially handed over to the contractor on September 14, 2017, after receiving an advance payment of N1,381,000,000.00.
Read: With N50 Drug Parcel, Minor girls Turn Addicts, Sex Workers
WikkiTimes met the construction firm on-site, but work on the 54km road awarded to Metropolitan Construction Company Limited at N15.3 billion, lingered beyond the stipulated completion period of 20th August 2019.
For 5 years, only a few parts of the 54 km road have been completed, while the larger part remained untouched.
Most parts of the road remain horrible and the residents continued to experience hardship as their access to the towns remains not easy.
Wild gravels and streams worsen the movement along the road of the agrarian communities which produce huge amounts of onions and other cereal crops as well.
Besides the mobilisation fee, the contractor was also paid various sums of money including N85,265,019.19 paid twice on the same day on 12th October 2018, N226,190,476.20 in May 2019, N180,952,381.00 in October 2019 and N205,741,975.39.
Shendam-Namu-Nasarawa road
For the 85 km Shendam Namu Pandam road, over N532,972,449 was paid to different companies in different instalments and dates. Over N78.7 million was released to Stelo General Products for the maintenance of the "critically failed section" of the road.
Again, findings from govspend.com revealed that on 26, Oct 2021, N49,372,093 was paid to H & M Nigeria Limited for the repairs of the road and another N44,883,721 was paid on 09, Oct 2021.
Similarly, on 15, Jul 2021 N111,059,742 and another N8,163,933 were paid to Gursha Integrated World-Wide Ltd on the same date. While on 21, May 2021 another N240,792,960 was paid to Dexterity Development Ltd all for the repairs of the road.
WikkiTimes' visit to the site revealed that despite the works carried out, there is a considerable number of potholes needing urgent repairs.
Mustafa Borgah, a driver on the Shendam, Numan Nasarawa, and a resident of Shendam decried the deplorable condition of the road.
"The road is really bad, especially on the Plateau side of the road. That is from Pandang, Namu to Shendam". He explained that they pay about N200 to locals from the surrounding communities who usually work to put sand on the potholes developed on the road. "The journey that wouldn't be supposed to take you 30 minutes, you will end up spending hours.
Mr. Borgah, cited instances of accidents along the road as, "Just after Dabat, there was a vehicle that some days ago tumbled there and all the seven passengers on board died". As a witness, he added that "There are cases of road accidents daily, as well as robbery on the road especially from Namu to Konde as a result of the bad condition of the road".
Ibrahim Abdullahi, a resident of Quan Pan and one of the road users emphasized the need for the reconstruction or genuine overhaul of the Shendam/Nasarawa road, "there are a lot of dangerous potholes on the road."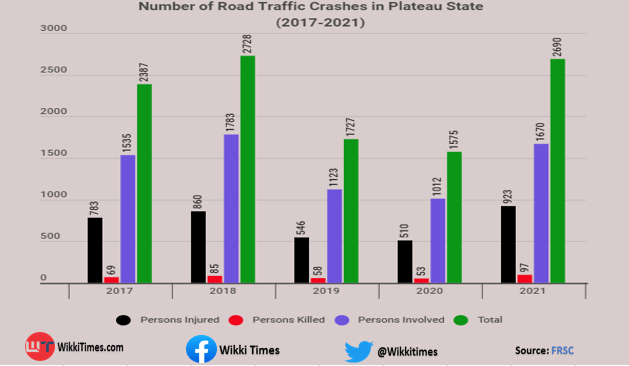 The Federal Road Safety Corps FRSC statistical digest indicated that 11,107 people were involved in road accidents in Plateau State in five years. Whereas 7,123 survived without injuries, 3,622 were victims of injuries while 362 people died.
WikkiTimes Freedom of Information Act requests for clarification on among other things, why the road projects were not completed despite funds released, being sent to the Plateau State Ministry of Works as well as the Federal Ministry of Works and Housing, were all ignored since they were sent over a month ago.
Yet, the defenceless residents of the communities would not have any option but to continue feeling the pains of the dreadful road as a result of bad governance and the absence of accountability.
This publication is produced with support from the Wole Soyinka Centre for Investigative Journalism (WSCIJ) under the Collaborative Media Engagement for Development Inclusivity and Accountability project (CMEDIA) funded by the MacArthur Foundation