In what could be translated as vengeance over military bombardment on his home, bandits warlord, Bello Turji and his footsoldiers have reportedly clashed with security opearices in Zamfara State, killing an unnamed soldier and destroying two operational vehicles.
Abdul Balarabe, a Zamfara-based journalist, described the deceased as a gallant soldier who responsively answered distress calls to confront bandits. According to another source familiar with the terrain, the skirmish ensued in Yar Dolen Kaura village along Shinkafi-Kauran Nadmoda highway.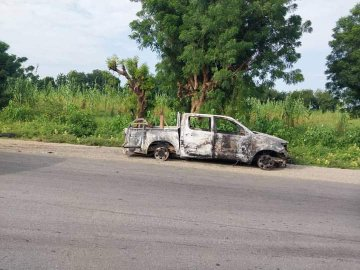 Two weeks ago, two military jets acting on rival-based intelligence, ambushed Turji's settlement in Fakai village, Shinkafi local council, Zamfara State. Following the invasion, locals in Fakai, paid a sympathetic visit to Turji in fear of retaliating against them.
READ: To Avert Reprisal, Locals Pay Condolence Visit to Turji over Military Invasion
A few days after the locals visited him, Turji said his gang will resume its havoc on harmless citizens to retaliate the forthnight invasion.
Condoling with the families of the victims, Kaura Namoda Nasiru Oja, a politician from the axis, together with the Emir of Kaura Namoda, Alhaji Sanusi Muhammad Ahmad Asha, prayed for the repose of the deceased souls.
In another development, WikkiTimes gathered that local vigilantes in Kanoma town, Maru local council, Zamfara State, neutralized 31 terrorists. According to another source, the vigilantes got intel about the marauders' presence in the viallge.
WikkiTimes had reported that Zamfara State Government In search of a lasting solution to punditry, signed a peace pact with Turji. Before the pact, the state government had also distributed 500 gun license forms to some emirates in Zamfara, urging locals to pick the form and confront their killers.
READ: ANALYSIS: What About Zamfara Govt's Peace Deal With Celebrated Bandit Kingpin, Bello Turji?
The pact, according to reports, included a permanent ceasefire and confronting the unrepentant bandits. Things seems not to go well between the parties as the government would train some guards to fight the terrorists.
The state government at the time maintained that Turji would help fight his unrepented brothers in the forest. The government also formed an alliance with nine different bandit groups, urging them to lay off their arms while the bandits requested the government to dissolve and disarm the local vigilantes and that their seized properties, like land, be returned.