For over a year, the Kano-Bauchi road has been inaccessible via Takai Local Government Area of Kano State as a result of the continued breakdown of a major bridge that links the eastern and western parts of northern Nigeria. Hence, motorists suffer endlessly.
The bridge, situated at Garin Bakin Gada in Takai LGA, serves as a link between Taraba, Gombe, Bauchi, Jigawa and Kano States and, thus, remains a chief economic drive for the states.
WikkiTimes gathered that the collapsed bridge has become an inescapable death trap, claiming motorists daily. This, however, often force them to take another route via Dutse -Birnin Kudu before heading to Kano.
Crossing The Sea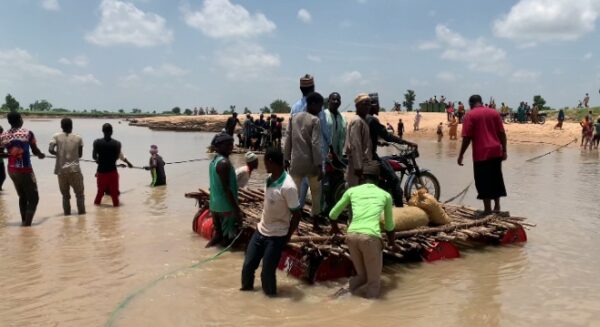 Commuters heading to Kano from Bauchi and other states have to alight by the collapsed bridge and take a local canoe to the other side of the bridge, where they continue their journey with another vehicle.
One of the passengers, Surajo Maitama Kachako told Aminiya that crossing the river by canoe is dangerous. According to him, a canoe ferrying passengers capsised in the river last week, "and no one has seen their bodies up to now."
READ: FG Fails To Deliver 90km Panyam-Bokkos-Wamba Road 15 Years After, Despite Billions In Releases
"The breakdown of the bridge has caused a lot of problems," Kachako lamented. "Before, we used to pay N200, but now you have to pay about N500 to get to your destination."
"The major challenge in crossing with a canoe is when the sea level is high," he added. "Passengers often drown in the river and they are never found."
Kachako explained that he also lost his brother "Abbas" to the odd and "we have spent up to seven days searching for his remains inside the river, but to no avail."
He, however, pleaded with concerned authorities to help fix the bridge to avert similar incidents.
On his part, Abdurrahman Sulaiman, another passenger said the breakage of the bridge has subjected motorists to untold hardship. He corroborated Kachako words, saying, not less than four people drowned in the river last week, while crossing to the other part.
"Before rain falls, we used to cross with our motorcycles, but as soon as the rain started, the contracting company came and demolished the remaining part of the bridge with the intention of renovation, but they have abandoned the work," said Sulaiman. "As of now, we have no alternative than to use local canoes, despite the dangers involved."
READ: Explosions, Cracks, Asthma… What Triacta Construction Company Gives Birshi Fulani Community In Bauchi
Adamu Munkaila, a member of the National Youth Service Corps (NYSC) serving in Garin Huguma, says the development makes him spend more on transportation. "If I am coming from Birnin Kudu, I am supposed to follow through Baranda and then to Dutse, but now I have to follow through Dutse, Huguma, to Kiyawa and then to Takai."
He said: "Before, It takes me up to 15 to 20 minutes, but now it is almost 40 minutes and sometimes I can't get a car to continue with the journey because most of the drivers have deserted the road."
Making Money And Losing Loved Ones
The shift in transportation patterns along the collapsed bridge is a plus for local sailors, but as it fetches them money, it also takes their loved ones from them, a situation that makes them live in despair.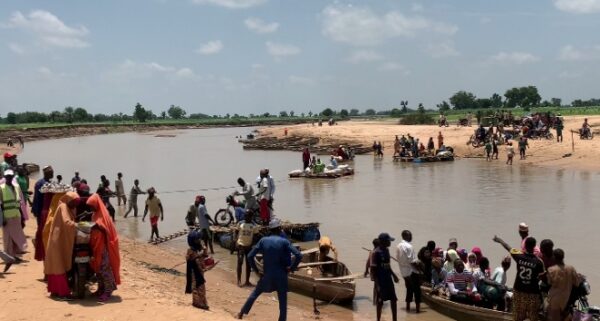 "Whatever we are getting from ferrying passengers, we are not happy with it," Abdullahi Inuwa, one of the sailors declared. "It is not our wish to see our people suffering. What we wish is for the government to renovate the bridge because, from the beginning of rainfall to now, we lost twenty people to the river."
"Many people are dying," he continued. "As I talk to you, there are some of our boats left by their drivers searching for dead bodies that drowned."
READ: How Contractors Pocketed Over N78 Million Meant For Road Projects In Bauchi
"We are appealing to the government to renovate the collapsed bridge to save our people's lives," he said.
A bus driver from Kano, Idris Haruna, said he has since stopped carrying passengers to Bauchi from Kano since the bridge broke. "Before the rain started, there was a space by the bridge we manage with motorcyclists, but since when it was demolished, it is only canoes that are being used as alternatives."
His words: "Now if we carry passengers from Kano to Bauchi, we drop them by the bridge side and they are ferried by canoe to go and board another car at the other side. But for those who carry heavy loads such as foodstuffs, they fear getting drowned."
When Aminiya visited the contracting company's site, only temporary houses for the staff were spotted, and the security guards on the site said the company had vacated the place for over a month.